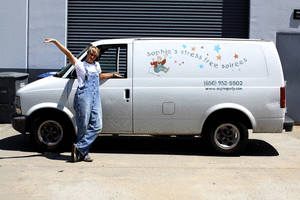 You know how there are times when you get so busy you just think, "There's no way I'm going get everything I need done accomplished -- there's just no way!" And then something happens on top of all that stuff that just makes you shake your head and say, "Oh well, guess it's just one of those days!"

Well, that happened to me last Friday.

Right now I've got a crazy schedule: I'm running a summer camp, there are three Bar/Bat Mitzvahs in a period of less than twelve days, a library craft appearance, and three corporate events. Plus, I have relatives in town! My normal 4 a.m. wake up time has been pushed back to 2 a.m., and still I can't get everything done!

So what's the "Oh well!" moment? You may ask?

The handle to my driver's side door snapped off, which makes it impossible to enter the driver's side.

For the last four days I've been either climbing over the passenger seat like a window-seated, peanut-bladdered passenger on a United Airlines Flight, or (my sister's personal favorite) entering through the driver's side window, flopping around as if I'm a bloated sea lion.

My sister is helping me run the summer camp, so of course she had to photograph every moment of the painstaking van-entering process... Sigh.

I do hope you enjoy my poorly-executed Dukes of Hazard entry technique... I've yet to get my foot caught in the seat belt, so I haven't toppled head long out of the truck yet... But I have gotten some very strange looks from my vendors and clients. I've just been telling everyone it's part of my new exercise regime...